Blue Knights

The Color Guard is a cadet-only team which represents the cadets of Detachment 425 in the local Golden Triangle area of Mississippi.  The 425th Cadet Wing, historically known as the "Ambassadors in Blue," at Mississippi State University proudly support honorary, service, and ceremonial events that give cadets an opportunity to put their pride, dedication, and talent on display.  These cadets serve an invaluable service to the Cadet Wing, posting the Colors at banquets, Dining-Ins, and Leadership Laboratories. The Honor Guard is well trained in all ceremonial military functions, including funerals for veterans and saber teams for weddings.
---
Arnold Air Society (AAS)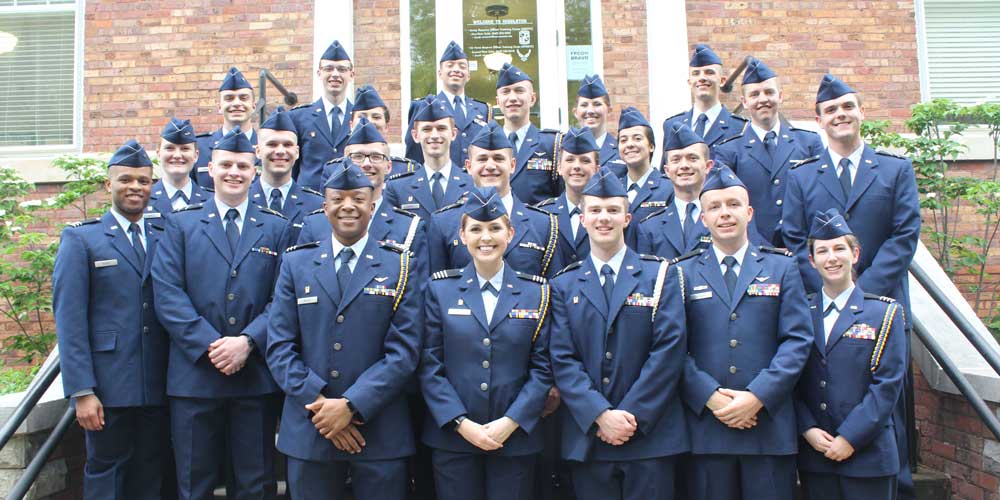 AAS is a professional, honorary, service organization advocating the support of aerospace power. Its ranks are made up of highly motivated ROTC cadets who compete for admission into the organization. AAS strives to create a more efficient relationship among Air Force Officer Candidates while furthering the purpose, traditions, and concepts of the United States Air Force. AAS affords members excellent opportunities for leadership experience, while finding a fellowship within the squadron. The Kenneth J. Snedden Squadron performs numerous community service activities throughout the academic year.
---
Silver Wings

An open student organization and collegiate arm of the Air Force Association, Silver Wings is a national honorary organization of dedicated college students who wish to make a difference for the better through service and assistance to their communities. This group seeks to aid in the progress and mission of the United States Air Force, the Air Force Association, and Arnold Air Society. The Kenneth J. Snedden Chapter performs numerous community service activities throughout the academic year in conjunction with the Arnold Air Society and Cadet Wing.
If you would like to find out more about any of the 425th Cadet Wing Organizations, or would like to request their services, please call the detachment at 662-325-3810 or contact us via email at afrotc@afrotc.msstate.edu.
---
Bully Force
Bully Force is a student organization whose members are Detachment 425 cadets. Bully Force is dedicated to the mission of supporting and enhancing the cadet experience. Members of this organization are able to participate in a multitude of events that we create and sponsor such as fundraising, volunteering, school events, retention, and so much more.