by Sarah Nicholas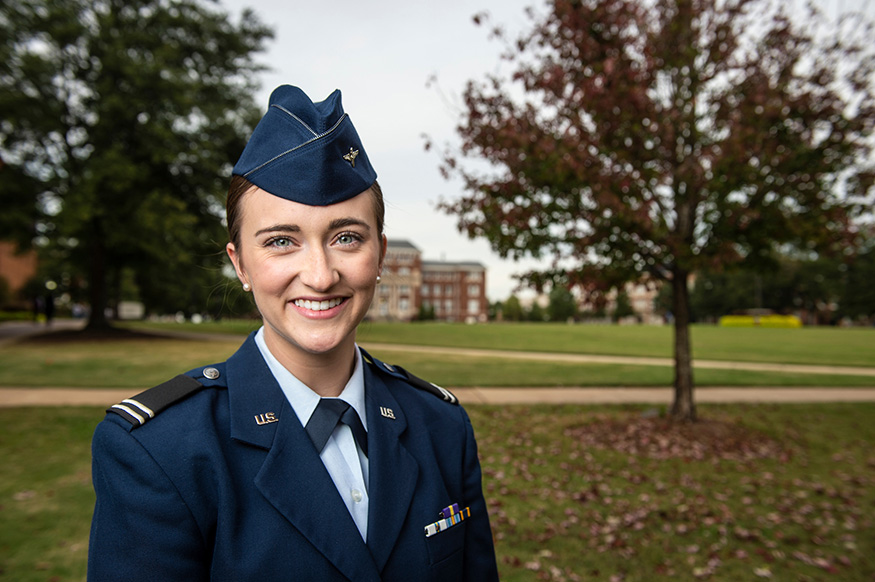 STARKVILLE, Miss.—Mississippi State University student and Air Force ROTC cadet Shelby Patti is one of only three recipients in the U.S. receiving an Armed Forces Communications and Electronics Association ROTC Medal of Honor Scholarship.  
Given annually by the Congressional Medal of Honor Foundation, in partnership with the AFCEA Educational Foundation, the $5,000 Medal of Honor scholarship recognizes outstanding ROTC students committed to serving in the U.S. Army, Air Force, Navy or Marine Corps.  
Recipients are judged by the AFCEA Scholarship Selection Committee to best exemplify the qualities of service and dedication to academic and military excellence.  
A junior chemistry major from Hammond, Louisiana, who also is an ROTC officer, Patti said she was "consumed by homework and tests" when she found out she had won the Medal of Honor scholarship.
"Receiving this award gives me so much motivation to keep pushing through this semester," Patti said. "The recognition reminds me that I am on a great path setting me up for success. It also gave me affirmation that I have been doing the whole 'college thing' right." 
Patti credits the support she received from her cadre – active duty military members in command of Patti's detachment – for applying for the Medal of Honor scholarship, specifically USAF Lt. Col. Joseph J. Cassidy II and Capt. Amanda Barrett.  "Their belief in me is what made me want to try for a scholarship that is so exclusive."
"Cadet Patti's outstanding record in academics and military excellence in AFROTC resulted in her national selection," said Cassidy, who is also commander of MSU's AFROTC Detachment 425.
Cassidy said the award is a "testament to the caliber of students that we mold, educate, and inspire at MSU," and Patti's selection "speaks volumes to the quality of faculty and staff in the College of Arts and Sciences and the role we all play in the development of our students." 
The Medal of Honor scholarship requires a 3.5 minimum GPA; Patti has a 3.93 GPA.
"I think what gave me an edge in the [scholarship] process was my involvement and diversity," Patti said.
"The love and support I receive from my fellow cadets, sorority sisters, fellow chemistry majors and professors is constantly pushing me to perform to the best of my ability," she added.
This semester, she is serving MSU's AFROTC as a cadet training officer, helping freshman and sophomore cadets develop their leadership and followership skills. She is a member of the Shackouls Honors College and Delta Delta Delta Sorority and has participated in undergraduate research through the chemistry department.
After graduation, Patti plans to attend medical school and serve as a doctor in the Air Force. 
Coinciding this week with national chemistry week, Patti's award "is further verification of the positive trajectory and growing strength of our chemistry program at MSU," said Dennis Smith, chemistry department head.
Smith said Patti has been a dedicated student who excels in her academic career.
"Chemistry majors leave MSU with a strong foundation from which to launch career paths in nearly every industry sector.  Shelby will do very well in medical school, and we wish her the best as she continues to advance and honor us with her outstanding career achievements well into the future."
The AFCEA Educational Foundation is a nonprofit organization dedicated to providing educational incentives, opportunities and assistance for people engaged in science, technology, engineering and mathematics (STEM) disciplines focused on information technology, cybersecurity, telecommunications and electronics supporting the defense, homeland security and intelligence communities.
Like its Army counterpart at MSU, AFROTC enables fulltime students to become military officers while completing higher education degrees. For more information, visit www.afrotc.msstate.edu.
Complete details about the College of Arts and Sciences may be found at www.cas.msstate.edu, and the Shackouls Honors College is online at https://www.honors.msstate.edu/. The Department of Chemistry may be found at https://www.chemistry.msstate.edu/.
MSU is Mississippi's leading university, available online at www.msstate.edu. 
Original article can be found at this link: https://www.msstate.edu/newsroom/article/2018/10/msu-air-force-rotc-cadet-chemistry-major-receives-medal-honor-scholarship/