by Sarah Nicholas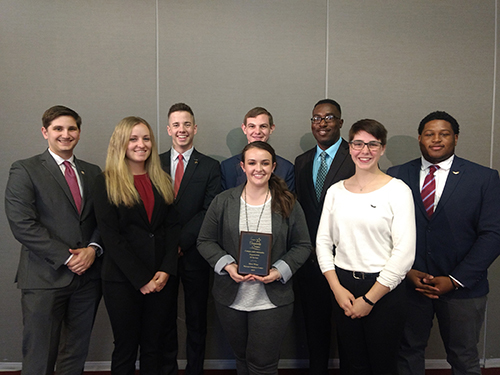 Mississippi State's Air Force ROTC celebrates 70 years at the land-grant institution this year, and two service units have been recognized for excellence in community service. Arnold Air Society and Silver Wings received the Ciccoli Joint Operations Award at CHEESECON, the National Conclave held this past April in Milwaukee, Wisconsin. (Photo submitted)
STARKVILLE, Miss.—As the U.S. Air Force celebrates its 72nd birthday, Mississippi State University's Air Force ROTC celebrates 70 years at the land-grant institution this year, adding to its military distinction recently with accolades awarded to two service units for excellence in community service.
The milestone anniversary will be celebrated Nov. 16 during the annual Military Appreciation Ceremony at MSU's home football game with the University of Alabama.
AFROTC's Kenneth J. Snedden Chapter of Silver Wings was named the MSU Campus and Community Organization of the Year at the university's Maroon Awards Banquet in the spring.  Silver Wings also has been tapped Regional Outstanding Chapter of the Year and will be the host site for the Silver Wings Region V Headquarters for the 2019-2020 academic year. It will host the Region V Conclave on campus in October. Region V covers the states of Mississippi, Tennessee, Alabama and the Florida panhandle.
Although AFROTC began at MSU in 1949, the program formed the Silver Wings civilian organization in 1953. Open to all college students dedicated to partnering with cadets, Silver Wings generates knowledgeable and effective civic leaders through community service and education about national defense.
"These students' commitment to service and to honoring the service of our men and women in uniform speaks to the quality of our future officers and civilian leaders, and to the leadership development and education we offer here at MSU and Air Force ROTC," said Lt. Col. Megan Loges, commander of MSU's AFROTC Detachment 425, and MSU professor of aerospace studies.
"The Kenneth J. Snedden Chapter of Silver Wings has been an outstanding ambassador to the local area through its commitment to service, community involvement and campus outreach," Loges said.
Silver Wings Region V President Michael B. Thompson is an MSU junior management major from Bartlett, Tennessee. He said the efforts of Silver Wings leaders were instrumental to the organization being awarded Regional Outstanding Chapter of the Year as well as its selection for the Region V Headquarters.
"Silver Wings has always been committed to developing strong civilian leaders," Thompson said. "Only one chapter within Region V has the opportunity to serve as one of 11 region headquarters across the nation. This gives my team a huge opportunity to gain leadership experiences."
Silver Wings is a sister organization of MSU's Arnold Air Society Kenneth J. Snedden Squadron, a professional, honorary service organization for current MSU AFROTC cadets. Qualified cadets compete for admission into the leadership-based organization, performing community service activities during the academic year while strengthening the relationship among Air Force officer candidates.
Silver Wings and Arnold Air Society received the Ciccoli Joint Operations Award at CHEESECON, the national conclave held this past April in Milwaukee, Wisconsin, for outstanding partnership at the national level.
"Our Arnold Air Society and Silver Wings have achieved excellence together," Loges said. "Their partnership has strengthened participation in service events and outreach, resulting in an increase in both numbers and quality of membership."
Silver Wings and Arnold Air Society last year organized their 15th annual 24-Hour Service Run, where 119 participants completed 877 miles and raised nearly $2,000 in honor of the country's servicemen and women. The groups also orchestrated "Angels for a Cause," a food drive providing supplies for more than 70 displaced personnel.
Like its Army counterpart at MSU, AFROTC enables full-time students to become military officers while completing higher education degrees. For more information, visit www.afrotc.msstate.edu.
MSU's College of Arts and Sciences includes more than 5,300 students, 300 full-time faculty members, nine doctoral programs and 25 academic majors offered in 14 departments. Complete details about the College of Arts and Sciences can be found at www.cas.msstate.edu.
MSU is Mississippi's leading university, available online at www.msstate.edu.